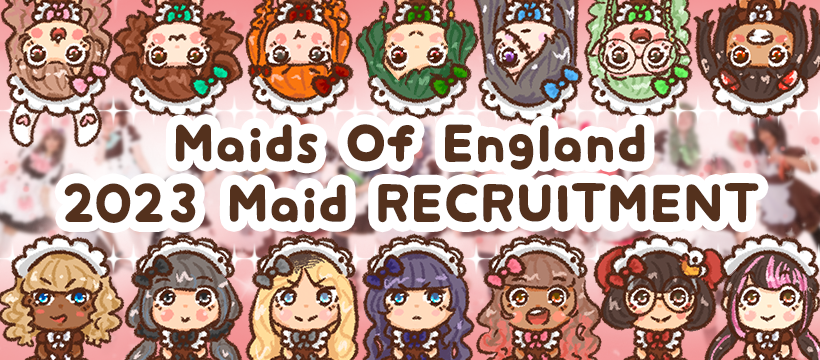 ---
Maids Of England, UK's largest and most active maid café, is recruiting for new MAIDS to join our MOE family!
REQUIREMENTS:
• 18 years of age or over
• Must have the intention of applying to work as a MAID (Referred in character either with She/Her or They/Them pronouns) only, regardless of gender identity.
• Available on WEEKENDS to attend trainings and events in London. 
• Must NOT be affiliated to any other maid café in the UK
• Be able to keep an active online social media presence in your character!
• Be committed for at least 1 year within the cafe.
• Feel you have a strong essence of "MOE" and that you shine your own unique colour!
Recruitment period : 8th August 2023 – 30th August 2023
Round 1 (Interview emails sent)  : 2nd September 2023
Interview period : 16th-17th September 2023 (Mainly the 16th with a 17th overflow)
Tester day : Pending September/October 2023
Interviews will be held on shortly after the end dates in Central LONDON (Travel will not be reimbused). Please specify any dates & times within this period that you are UNAVAILABLE in your application. Successful interviewees will be invited to a tester day (Travel Reimbursed). It is also preferable to be available for the full day on the interview day(s).
Please include your name, age, hobbies, applicable skills/experience and your reason for wanting to become a Maid for MOE, along with at least THREE recent and clear photos of yourself, with one full body shot. These photos must be unedited and in clear likeness of you.
We CANNOT consider any applications that lack any of the above requirements.
Due to the amount of applicants we get, please note we will only send successful applicants emails.
NOTE: This not a full-time position and should be considered as a HOBBY; our events are convention and pop-up based but are PAID POSITIONS.